Opened in Feb. 1997, this 300 bed facility handles the daily operations of transporting, feeding, medical care, adult education, and custody of Parish and State Inmates.
Major Gordon Jeffcoat, Warden 
100 Deputy Barton Granier Dr.
LaPlace, LA 70068
Phone: (985) 359-8627
Fax: (985) 653-7418
Medical Care
Supervisor – Kaiana Knight
(985) 359-8636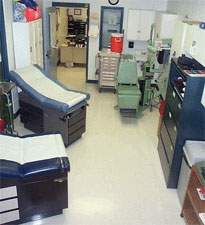 The Medical Department of the St. John Parish Correctional Center is a modern, fully functional first aid and examination station.
When the new correctional center opened in February 1997, the medical department consisted of a 10'x11′ room with only the necessities.
Since then,  the physical size has more than tripled.  Each day,  the staff take care of the medical needs of 360 inmates.  With this new addition, they feel that they could care for many more.
With some Federal assistance, the medical department was outfitted with some very up to date equipment, including exam beds, locking medication carts, and patient medical filing system.  With this backing and incentive, the medical staff strives for excellence.