Sheriff Mike Tregre
July 1, 2012 - Present
Michael Kerry Tregre was born and raised on East 29th Street in Reserve, La.
On February 1, 1988, Mike began his career with St. John Sheriff's Office as a jailor. In 1990, Mike began his time as a patrolman and undercover narcotics officer. In February 1991, Sheriff Johnson promoted Mike to Detective and he earned the rank of Sergeant. On July 1, 1996, after the election of Sheriff Wayne L. Jones, Mike was promoted to Lieutenant and became the departments first ever Director of Internal Management, a position created to investigate complaints against officers and maintain public relations. Less than a year later he was given the additional duty of being Public Information officer, which earned him the title of "spokesperson" for SJSO. On August 17, 1999, Mike was promoted to the rank of Captain.
He completed the training at the highly recognized FBI National Academy, in Quantico, Virginia. After successfully completing the 3 month curriculum of administrative class work, rigorous physical training and networking with some of the finest law enforcement officers in the world, Mike graduated from the 219th Session of the FBINA on December 10, 2004 and was promoted to the rank of Major on December 17, 2004.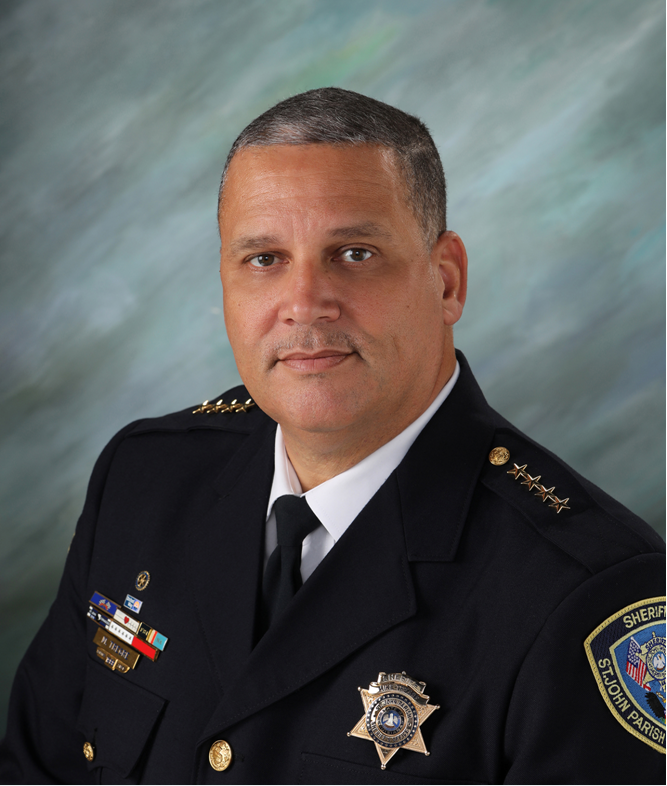 On January 12, 2008, Mike was assigned to work under newly elected District Attorney, Tom Daley. He assisted the DA in the implementation of a new program to track misdemeanor crimes and lead the suspects through the system of repaying money to victims, the courts and finally completing any community service sentence imposed by the court system. He was named the DA's Misdemeanor Probation Officer.
In the election of October 2011, Mike was elected Sheriff of St. John Parish by 63% of the voters. He was re-election in November of 2015 for a second  term.
He and his wife, Tanyia Stevens Tregre, reside in LaPlace, LA and have two children, Jasmine and Jared.
PROFESSIONAL AND CIVIC AFFILIATIONS
Louisiana Sheriff's Association
National Sheriff's Association
Rotary Club of LaPlace – 2009 – present,  Past Vice President
Rotarian of Month- July 2010
Paul Harris Fellowship Award – 2011
LaPlace Lion's Club –  2008 – 2013
Member our Lady of Grace Catholic Church
ACCOMPLISHMENTS
East St John High School – Graduate 1985
LSU Police Academy P.O.S.T Certification – Graduate 1990
FBI National Academy – Graduate 2004 (219th Session)
Graduate LA Sheriff's Training Institute – 2012
United States Dignitary Protection Service Training – 2015
John Parish Recreation – Board Member and Past President
John Parish Recreation Department Volunteer Basketball Coach
John Parish Community Action – Board Member and Past President
John Council on Aging – Board Member
John United Way Advisory Board Member
John Parish Emergency Operations Disaster Drill Team