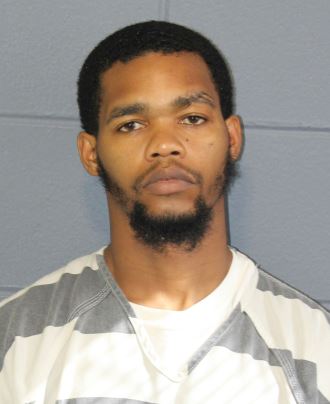 Djuan Mackey
Djuan Mackey, 26, of Gretna has been arrested in connection with a triple shooting occurring in October 2015 at a LaPlace residence that resulted in the deaths of Travis Gregoire and Sierra Gregoire.
For the past two and half years, Sheriff Mike Tregre said, SJSO detectives have kept this investigation at the forefront of their cases, with investigators refusing to let the case go completely cold.
"Our detectives didn't give up," Sheriff Tregre said. "Through the years, they worked just as hard as they did the day of the shooting to solve this case."
On Monday, October 5, 2015, about 2 a.m., deputies responded to a residence in the 400 block of State Street in LaPlace in reference to a shooting. Upon arrival, deputies located two victims at the residence, identified as cousins Travis Gregoire, 23, and Sierra Gregoire, 18. Both victims died at local hospitals. A third male victim was shot and survived.
Over the course of the investigation, detectives identified Mackey, a convicted felon for firearms and drug-related violations, as a suspect in the triple shooting and obtained a judicial warrant for his arrest. With the assistance of the U.S. Marshals Fugitive Task Force, officers arrested Mackey without incident at a residence in Slidell on Wednesday, May 23, 2018. He was booked with two counts of second degree murder (felony) and one count of attempted second degree murder (felony.) Bond has not yet been set. A motive is unknown at this time, and this investigation remains active.
Among other incidents involving Mackey include a double shooting, in which Mackey and another male victim were shot, that occurred May 13, 2018 at a residence on English Colony Drive in LaPlace; and another shooting, in which Mackey was shot, that occurred August 1, 2015, at a residence on Belle Pointe Boulevard in LaPlace.
Anyone with information regarding any of these incidents is encouraged to call the St. John the Baptist Parish Sheriff's Office TIPS line at 985-359-TIPS or Crimestoppers at 504-822-1111. Citizens with information about this incident that call Crimestoppers do not have to testify in court and may qualify for a cash reward. Citizens can also submit tips on the Sheriff's Office website at https://proto.stjohnsheriff.org/crime-arrests/crime-tips/.