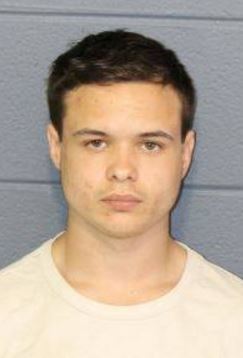 Dylan Zimmerman
On Saturday, March 18, 2017, St. John Parish deputies conducted a traffic stop on two individuals who were riding four-wheelers and operating them at a high rate of speed in the area of Greenwood Drive in LaPlace. Deputies made contact with the subjects, identified as Dylan Zimmerman, 18, of LaPlace, and Derrick Bertrand, 19, of Reserve; and due to the reckless operation of the all terrain vehicles, deputies had them towed, and both drivers were cited.
Subsequently, the next morning, Sunday, March 19, 2017, representatives of Belle Terre Country Club in LaPlace observed damage to the golf course. Upon investigation, deputies learned the damage was consistent with tire marks of an all terrain vehicle. It appeared someone had been riding around in tight circles on a vehicle, resulting in the circular tire marks, reminiscent of doughnuts, on top of the green area that caused the damage.
Upon further investigation, detectives learned that both subjects were on the golf course that night, and Zimmerman was identified as the perpetrator who damaged the green area by doing doughnuts on a four wheeler. Based on investigation, detectives obtained an arrest warrant for Zimmerman and booked him April 26, 2017 with criminal damage to property $500-$50,000 and criminal trespassing. Bertrand was issued a misdemeanor summons for criminal trespassing. Zimmerman was released April 26, 2017 on a $5,500 bond.
Detectives are seeking information on a third subject who may have been involved in damaging the golf course. Detectives are asking anyone with information on this incident to call the St. John the Baptist Parish Sheriff's Office TIPS line at 985-359-TIPS or SJSO dispatch at 985-652-6338.