Reprint from

Published Saturday, December 10, 2016

I want to share a story that has been on my mind.
On my way to work one day, I stopped at a traffic light on Airline Highway. While waiting for the traffic light to change, a lady pulled up next to me and motioned for me to open my window.
When I did, she proceeded to tell me that her 5-year-old daughter in the back seat refuses to wear her seat belt. When I made eye contact with the child, she burst into tears, jumped into the front seat and begged her mom not to let the police take her away.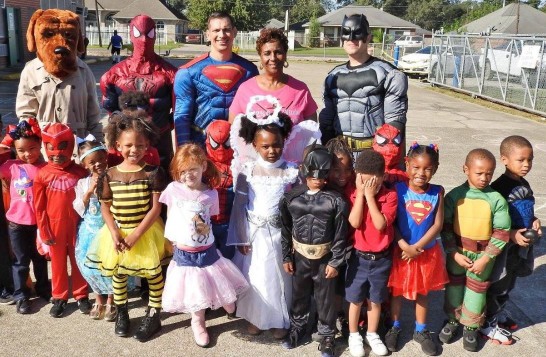 The light turned green and the driver thanked me and drove off. I thought about pulling the female over to explain to the mom and the child that I am not the bogeymen, the Grim reaper or Darth Vader. Parents should understand that there are different ways to discipline their child than using the police to scare them into obedience. And, the look on that child's face has remained with me.
For a long time, I have heard parents tell children that they will have the police take them away. I have experienced many cases where parents bring their children to the Sheriff's Office requesting to have them look inside jail in an effort to discourage bad behavior.
In these cases I had the opportunity to tell the child that police are here to help them. I don't like the idea of parents telling children that the police will hurt them or lock them up for child-like misbehavior. In some cases this will lead kids to always think the police are not good people and they will fail to turn to us when they need help.
I have frequently attended the schools on their scheduled career day events. Not surprisingly these days, not many students have any interests in becoming a police officer. Taking into account the current law enforcement environment, it's easy to walk away from a calling to serve.
In addition, I guess I can understand kids being upset with a police officer when SJSO get calls for service to run kids away from fishing in a pond or to stop them from playing basketball in the street.
At SJSO, we will not let these circumstances stop us from trying to get young people to trust the police.
So over the upcoming holidays, if you find that your kids need something to do, consider taking your child to St. John Sheriff's Office for a tour. Barring extenuating circumstances, we would be happy to provide a guided tour of our 911 facilities, equipment, gear and K9 facilities.
It is my goal that our department can personally demonstrate the good side of law enforcement, making sure kids know that we are the good guys and that we are human too.
If you are interested in a tour, call 985-652-9514 and ask for Toni or Ann Marie to schedule a tour or stop by and we will do our best to accommodate.
As Sheriff I have been focused on the future of 2017 for more than a month now. I find myself always looking for new opportunities, new programs to implement or new ways to push our department to greater heights.
The members of our department have demonstrated a strong sense of dedication and commitment to the citizens. Please follow our website at stjohnsheriff.org or like us Facebook page for accurate information of current events in our community.
And, as you all know someone has to work during the holidays. If you see an officer, especially during the holiday season, the gift of a heartfelt "thank you" can go a long way on a cold night.
Nothing feels as good as support and appreciation.
From me and my family to you and yours, have a Merry Christmas and a very Happy New year! We are looking forward to a prosperous and safe 2017!