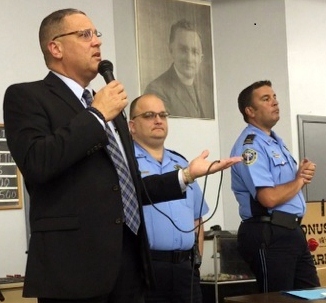 The St. John Sheriff's Office hosted a discussion of the use of golf carts on parish roads on Feb. 22 during a town hall meeting at the Knights of Columbus Home in Reserve. The State Legislature recently passed Louisiana Revised Statute 32:299.4, Act No. 308, amending the laws controlling the operation of golf carts, all-terrain vehicles, and other unregistered non-road use vehicles on public roads and highways. About 150 residents attended the meeting to learn more about the revised law and how to make golf carts street legal.
Lt. C.J. Remondet and Lt. Troy Cassioppi led the meeting. Sheriff Mike Tregre and Parish Council members Julia Remondet, Larry Snyder and Lennix Madere Jr., along with Justice of the Peace Robert Snyder Jr., also were on hand to answer questions.
Among the requirements for a cart to be street legal are the driver must have a valid license; the cart must have safety equipment such as head lights and turn signals and be covered by liability insurance; and the cart must be registered with the Louisiana Department of Public Safety and Corrections, Office of Motor Vehicles, as an off-road vehicle and display a decal issued by the Office of Motor Vehicles.
While residents may want to begin plans to make their golf carts street legal, the Parish Council must first pass an ordinance designating a parish road for use by a golf cart, Lt. Remondet told the group.
The St. John Sheriff's Office has been issuing warnings to golf cart drivers on local streets, increasing awareness of the new law.
Public safety is a top priority of the Sheriff's Office, Sheriff Tregre said. And, children driving golf carts is a grave concern. "There are too many children driving golf carts. This can present a dangerous situation," he said.
"The law is the law," Sheriff Tregre told residents. "I did not create this law. But, I have to enforce the law."