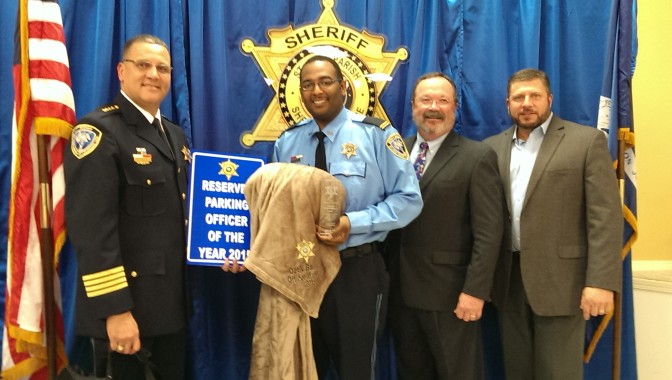 Detective Vernon Bailey Jr , 2015 Officer of the Year with Sheriff Mike Tregre and Bill Ironside and Randy Zaiden of RTC Security, Officer of the Year Sponsor
---
LIFESAVING AWARDS
Several St John Sheriff's Officers were honored with Lifesaving Awards at the Awards and Dinner ceremony for thier outstanding service to St John Parish.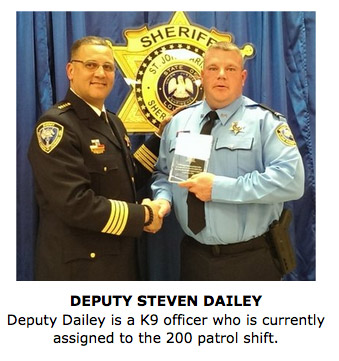 On August 15, 2015 at approximately 1637 hours, Deputies Steven Dailey and Jonathan Walker were dispatched to a call in reference to a male subject who stated his varicose veins ad burst in his legs and he was losing a large amount of blood. The victim, a 20 year retired NOPD officer advise if given a tourniquet he could do it himself.
Upon seeing that the victim was having difficulty applying the tourniquet, Deputy Dailey took command and applied and tightened the tourniquet to the victim's leg until the flow of blood became less profuse. The victim's leg was kept in an upright positon until Ambulance Services arrived and tranported the victim to a local hospital.
It was later found that the victim was doing well and had been released.
---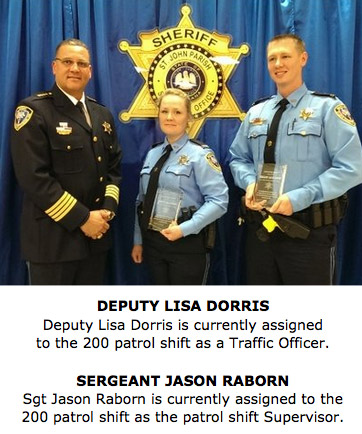 On August 15, 2015 at approximately 0925 hours, Deputy Lisa Dorris, after completing a funeral escort, was alerted by bystanders of an elderly female who had possibly fainted in the church parking lot.
Deputy Dorris observed that the female was not breathing and unresponsive, requested an ambulance and began CPR. The female later began to take small shallow breaths, but was still unresponsive.
While monitoring the female, deputies observed the victim was no longer breathing on her own and had no observable pulse. At this time Sgt Jason Raborn began chest compression and CPR until female began breathing on her own again. Deputy Dorris continued to speak to the female and monitored her vitals. The female later begain responding to emergency personnel and was transported to a local hospital for further treatment.
It was later learned that the female was in stable condition and transported to a Kenner hospital for further evaluation.
Also recognized were the 2015 Officers of the Quarter
---
Officer of the 1st Quarter
Sponsored by Frank Fagot of Allied Express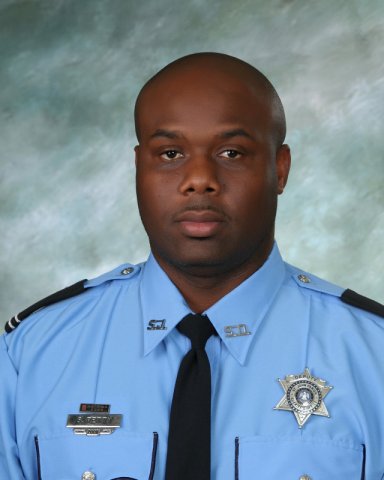 Deputy Shannon Petty received the Officer of the 1st Quarter Deputy Petty was selected based on his actions on Thursday, January 29, 2015, that resulted in the arrest of a criminal that had just committed a felonious crime. After receiving a call of a simple robbery, while enroute to the scene, Deputy Petty oberserved the suspect attempting to flee the area on foot. Deputy Petty gave foot chase, and after jumping two fences, captured the suspect attempting to hide behind a residence. Property taken from the robbery was found on the suspect who was later arrested for simple robbery and possession of stolen property. Deputy Petty as shown consistent dedication to protecting and serving the citizens of St John Parish.
---
Officer of the 2nd Quarter
Sponsored by Mike Hanley of Edward Jones
The officer selected for the 2nd Quarter is no longer with the Sheriff's Office and was ruled ineligible to qualify for officer of the year.
We thank Mr. Mike Hanley, of Edward Jones, for his support and for sponsoring the award for the 2nd Quarter.
---
Officer of the 3rd Quarter
Sponsored by Ronnie White & BaBa Oncale of Formal Connections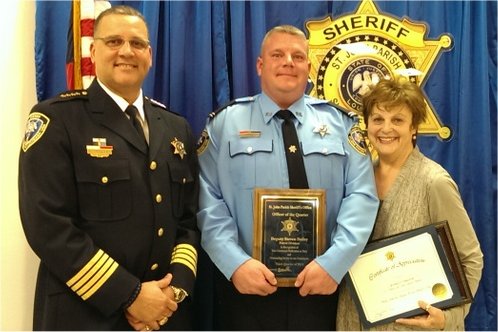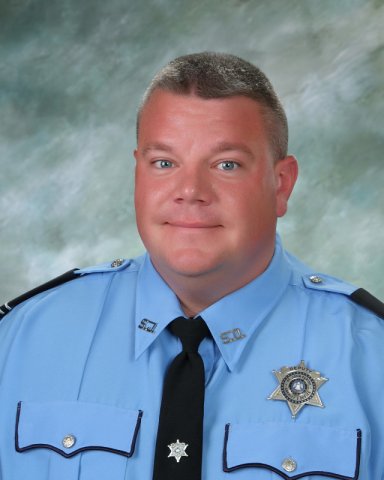 Deputy Steven Dailey received the Officer of the 3rd Quarter On August 15, 2015 Deputy Dailey successfully applied a tourniquet to a 20 year retired NOPD veteran whose varicose veins had burst in his legs and lost a large amount of blood.
---
Officer of the 4th Quarter
Sponsored by Tony Vitrano and Vernon Bailey of Supreme Ford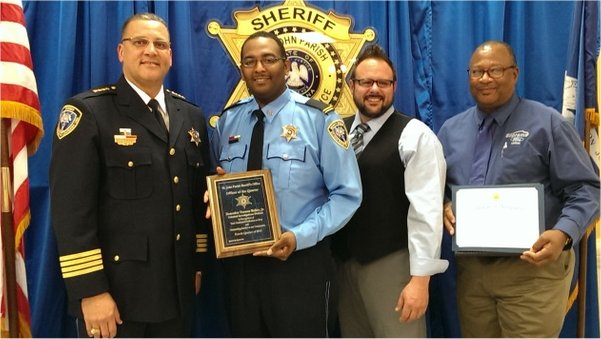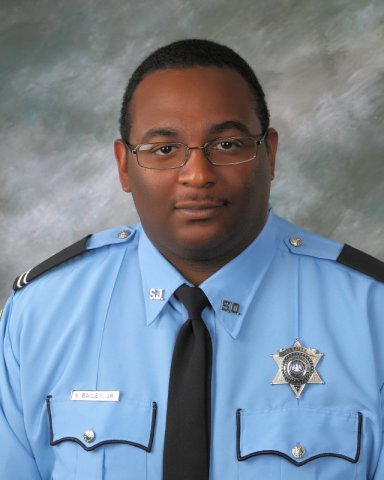 Detective Vernon Bailey, Jr received the Officer of the 4th Quarter After being assigned to investigate a shooting that occurred on May 6, 2014, where two victims were shot, Detective Bailey after completing a thourough investigation, subsequently arrested one suspect for Attempted Murder. The suspect eventually pled guilty without going to trial and was sentenced to 18 years in prison.
Also, on Dec 2, 2014, after being assigned to investigate a homicide, through another thourough investigation, Detective Bailey solved this case and arrested one suspect. Again, the suspect pled guilty to homicide and was sentenced to 25 years in prison.
Because of the outstanding investigation on these two cases, resulting in long prison sentences, Det. Bailey was awarded Officer of the 4th Quarter in 2015.
Det Vernon Bailey Jr was then honored with the 2015 Officer of the Year Award, presented to him by Sheriff Mike Tregre, Bill Ironside and Randy Zaiden, R.T.C Security Service, Sponsor of the Officer of the Year award.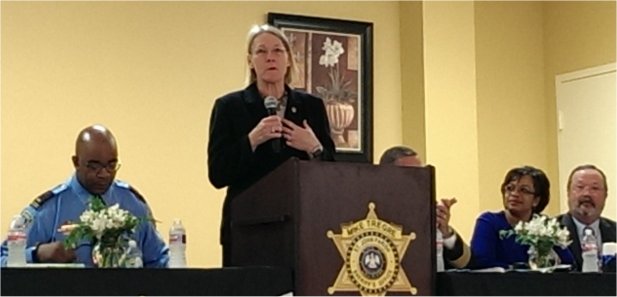 Ms Genny May, Keynote Speaker
United States Marshall, Eastern District of Louisiana
Sheriff Mike Tregre also thanked the Sponsors of the Officer of the Quarters for 2014
1st Quarter

Frank Fagot
Allied Express

2nd Quarter

Mike Hanley
Edward Jones

3rd Quarter

Ronnie White and BaBa Oncale
Formal Connections

4th Quarter

Tony Vitrano and Vernon Bailey Sr.
Supreme Ford
Special thanks to Miss Yashica Jackson, who sang the National Anthem, and our 2015 Honorary Sheriff's for the Day, Tanner Louque of Riverside Academy, who led us in the Pledge of Allegiance.