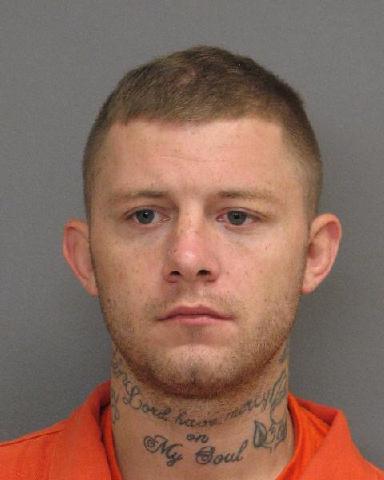 Kenner authorities arrested a subject on unrelated charges who St. John the Baptist Parish Sheriff's Office detectives wanted in connection with the burglary of Jackson Industries on Jaubert Lane in LaPlace. Authorities arrested Chad Cooper, 29, whose last known address is Marino Drive in Norco.
On February 16, St. John the Baptist Parish Sheriff's Office deputies responded to a business, Jackson Industries, on Jaubert Lane in LaPlace for the report of a burglary. The owner reported that his office and trucks on the property were rummaged through. Checks, a small sum of cash, and safe containing titles for trucks and trailers were reported stolen.
Recorded video surveillance from Jackson Industries revealed that a male and a female exited a dark colored vehicle at approximately 2:00 am and began looking into trucks. Evidence found at the scene by the investigating deputy linked Chad Cooper to the burglary.
On February 16 and 18, Chad Cooper tried to cash checks from Jackson Industries at a business in LaPlace, but the business refused to cash the check each time because the checks were reported stolen. Cooper fled the business each time. On February 17, Cooper cashed a Jackson Industries check at another business in LaPlace. On February 21, deputies recovered the safe and titles that were reported stolen. The safe and titles were found in a ditch on Magnolia Avenue in LaPlace.
Based on the investigation, detectives obtained a judicial court ordered arrest warrant for Cooper for burglary and criminal damage to property. Detectives consider Chad Cooper a suspect for other recent burglaries in the area.
Detectives are attempting to identify Cooper's female accomplice in the burglary. Anyone with information regarding this incident or any other incident that may involve Chad Cooper is encouraged to call the St. John the Baptist Parish Sheriff's Office TIPS line at 985-359-TIPS or Crimestoppers at 504-822- 1111. Citizens with information about this incident that call Crimestoppers do not have to testify in court and may qualify for a cash reward. Citizens can also submit tips on the Sheriff's Office website at https://proto.stjohnsheriff.org/crime-arrests/crime-tips/.">https://proto.stjohnsheriff.org/crime-arrests/crime-tips/.