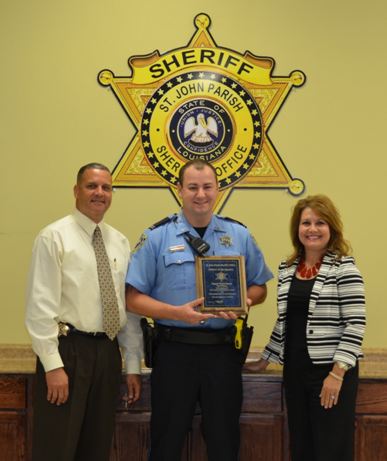 St. John the Baptist Parish Sheriff's Office is pleased to announce Deputy Turner Barran has been named "Officer of the Quarter" for the 2nd Quarter of 2014. He is shown receiving his award from Sheriff Mike Tregre (L) and Kim Bourgeois (R) who is representing our sponsor, Louisiana Federal Credit Union.
Deputy Barran was selected not only for performing his duties competently and conscientiously, he does it professionally and unselfishly. It was recently brought to our attention by a citizen that while patrolling throughout his assigned District during the freezing weather we experienced this past winter, Deputy Barran came upon an individual who was sleeping in their vehicle and did not want to move to a shelter. Deputy Barran took it upon himself to use his own money to purchase a battery and a tank of gas for the individual so they could stay warm during this cold spell. He then passed by throughout the night checking to make sure they were safe. This is just one of the examples of his kindness and generosity that if it were not for a citizen calling to thank him, we would not have known the full extent of his generosity.
Deputy Barran is a 3 year veteran of the St John Parish Sheriff's Office currently assigned to the Uniform Patrol Division, 300 Shift.