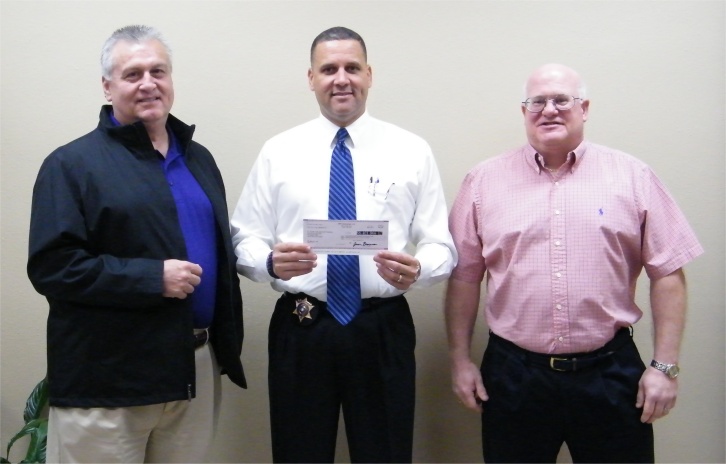 (LaPlace, LA)… Bubbie Anderson, Division Manager, and Dan Ehrhart, Division Controller, of Marathon Petroleum Company's Louisiana Refining Division in Garyville presented checks for Marathon's 2012 property taxes totaling approximately $24.1 million to St. John the Baptist Parish Sheriff and Ex-Officio Tax Collector Mike Tregre. The payment is an increase of $5.7 million over the previous year, and represents approximately 50% percent of the total property taxes collected by St. John the Baptist Parish this year. In addition to property taxes, Marathon's sales and use tax payments to the Parish are estimated at $11.5 million for 2012.
Marathon's contribution to the Parish is not limited to the amount of taxes paid. The refinery also conducts business with over 100 local merchants and suppliers, and generates a significant amount of employment for area residents. Marathon directly employs approximately 850 full-time employees in its refinery operations and an additional 40-50 employees in its terminal, pipeline, and other support activities. In addition, approximately 650 full-time contract employees work at the plant daily.
The company has invested millions of dollars in the Garyville refinery to fully comply with new environmental regulations, and enjoys one of the best environmental records in Louisiana, as evidenced by the number of Louisiana Governor's Awards for Environmental Excellence received by the refinery. The Garyville refinery is committed to energy efficient products and practices as recognized by the US EPA and US Department of Energy's ENERGY STAR award and the American Chemical Council's Responsible Care® Energy Efficiency Award. In addition, the refinery has been recognized by OSHA for its commitment to safety and health, as it is one of only 34 in the United States designated as an OSHA VPP STAR facility.
In addition to tax payments to the Parish, Marathon and its employees contribute to the community through significant involvement and financial support of many charitable organizations and activities. Marathon has adopted schools within the Parish, and has provided them an annual lump sum donation as well as conducting backpack drives, science experiments, expo days and other financial and educational activities throughout the years. They have also partnered with the Supriya Jindal Foundation to install more than three dozen "smart boards" in schools throughout the Parish. Marathon also supports the San Francisco Plantation Foundation, St John Parish United Way, Louisiana Technical College River Parishes Campus, and various volunteer fire departments in addition to its other philanthropic contributions.