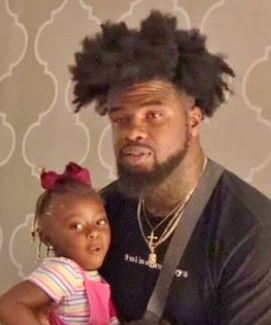 Cali and Cameron Mack
Help us find justice for the family of Cameron Mack, 29, and his 4-year-old daughter, Cali, left, both shot to death in the evening of May 29, 2018 near their apartment in the 100 block of Joe Parquet Circle in LaPlace. Cameron Mack and Cali Mack are the parish's fourth and fifth homicide victims this year.
A $5,000 Crimestoppers reward is available for information leading to the arrest and indictment of the suspect or suspects responsible for the shooting deaths of Cameron Mack and Cali Mack.
Cameron Mack was carrying his daughter, Cali, and groceries up stairs to their apartment when they were shot by a gunman who came out of the darkness and fired multiple shots, killing both of them. Based on investigation, detectives with the St. John Sheriff's Office believe Cameron Mack was targeted. The motive is unknown at this time.
Detectives are seeking the public's help in the investigation into these homicides.
"SJSO needs help solving this senseless and violent tragedy," Sheriff Mike Tregre said. "I just hope and pray that God will lead us to this suspect."
Anyone with information regarding this incident is encouraged to call the St. John the Baptist Parish Sheriff's Office TIPS line at 985-359-TIPS or Crimestoppers at 504-822-1111. Citizens can also submit tips on the Sheriff's Office website at https://proto.stjohnsheriff.org/crime-arrests/crime-tips/">https://proto.stjohnsheriff.org/crime-arrests/crime-tips/