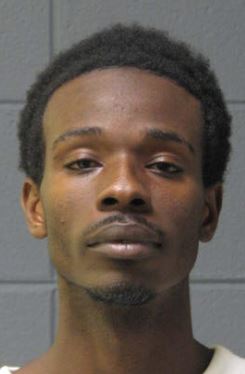 Phillip Bolden
On Friday, January 8, 2016, at 2:57 pm, St. John the Baptist Parish Sheriff's Office deputies responded to Dunkin Donuts, 1334 West Airline Highway, in Laplace for the report of a theft. The complainant reported that a man had been in the store to submit a job application. When the store clerk walked away from the counter, he stole cash from the tip jar and fled the store.
With the aid of the store's recorded video surveillance, deputies obtained a description of the perpetrator. Deputies saw a man matching the description walking in the LaPlace Center parking lot and located him in Cash America Pawn, 1725 West Airline Highway. During the arrest, deputies recovered a laptop computer that was concealed in the front of his pants and $45 cash. The computer was stolen from Cash America Pawn.
Deputies identified the arrested man as Phillip Bolden, 26, of LaPlace. He was booked with theft-less than $750, theft by shoplifting-less than $500, and a fugitive warrant for Lafayette Parish. Bolden remains in custody in lieu of a $1000 bond and the Lafayette Parish hold.